Concrete with Acrylic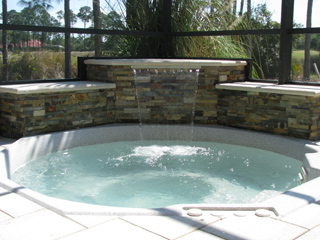 For new pool decks and pool remodeling projects, we use two time tested products from Florida-based pool finish company, SGM.
Diamond Brite - For the past two decades, this quartz aggregate pool finish has been the choice for hundreds of thousands of pools. Diamond Brite comes in a wide range of colors and is incredibly durable, comfortable, and slip resistant.
River Rok - Another viable option that is highly durable, this natural stone finish for surfacing also comes in a lovely selection of colors. River Rok can be applied in just one day, making it a very economical choice. The original finish is blended with natural pebbles and will retain its color for many years to come.
Contact Raszl to discuss your options for the best surfacing options when designing your new pool, or when remodeling your existing pool and spa in St. Augustine, Palm Coast, and Ormond Beach.