RicoRock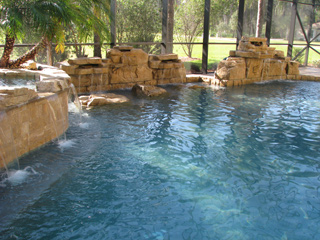 Raszl Custom Pools and Spas uses RicoRock® for pool rock and waterfalls. An Orlando based company, RicoRock manufactures cast concrete rock molded from natural rock. Rock styles include limestone, sandstone, granite, and quartz, and colors are customizable if necessary.
RicoRock is a leading innovator in how waterfalls are constructed for pools. Its patent pending designs have changed the method of integrating this naturally beautiful element into pool design. RicoRock waterfalls look real because they are molded from nature; they will last a lifetime because they are cast concrete.
Would you like to utilize RicoRock for your pool and spa design in Palm Coast, St. Augustine, or Ormond Beach? Please contact Raszl for more information.